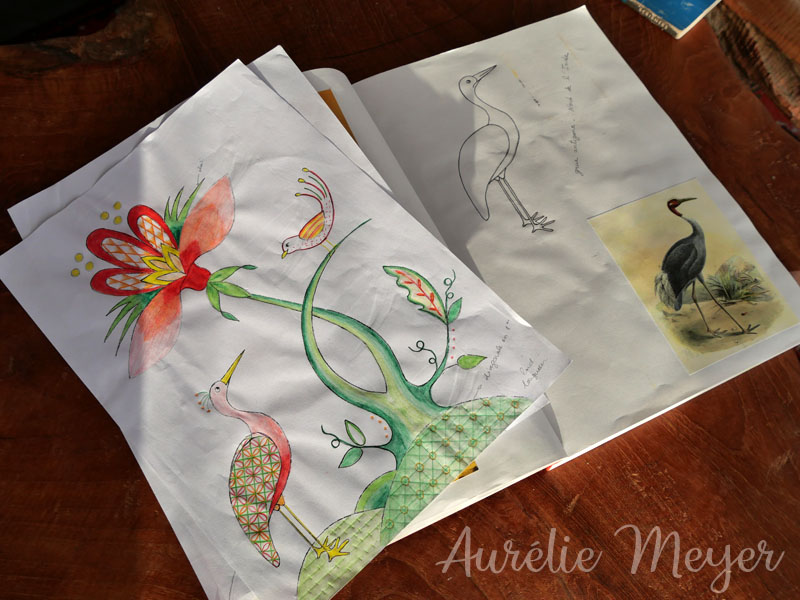 RSN Certificate, Jacobean crewelwork, design
Depuis cet été j'ai travaillé sur le design de ma broderie Crewel que je réaliserai pour le Certificat à la Royal School of Needlework (RSN). J'ai lu plusieurs livres sur le sujet pour découvrir les points de broderie, les motifs traditionnels. J'ai aussi lu attentivement les instructions  : en réservant mon premier cours, j'ai reçu de façon détaillées les compétences à travailler, les éléments de design à respecter, ainsi que les objectifs. Cela permet donc de travailler en amont et de commencer à préparer son motif, à chercher des idées. Vous pouvez aussi tout faire directement à l'école. J'ai préféré commencé à la maison car une fois sur place je souhaite me concentrer sur la technique. J'ai aussi l'habitude de créer des patrons, motifs. Cette broderie que je vais réaliser demande de nombreuses heure de travail et il est important pour moi d'avoir à la fin un résultat qui me plait et le design en est une partie très importante : les formes, les courbes, les espaces, tous les éléments doivent s'assembler de manière cohérente.
Since this summer I worked a lot on my design for my Crewel embroidery for the Certificate at the Royal School of Needlework (RSN). I read Crewel embroidery books to discover the techniques, the stitches, the traditional designs. I also read carefully the brief they sent me. When you had booked the first Certificate Jacobean Module you received a mail with the brief, the evaluation… So you can start at home to work on your design and arrive with ideas. Some people work on nothing and do everything at the RSN.
Because I am a creative person and already worked on many designs, I preferred to  work at home, to do my researches at ma pace and have a design I really like. It is so many hours of work on it, I prefer to have an embroidery I am happy with at the end, and the design is specially very important for me. I really want to have a cohesion in it : nice shapes and curves, right spaces… all the elements just going in the good place to have a coherent and pleasant design.  The second reason is I will go as an intensive course (I will be there for a week) and I want to have the most time to embroider because I will have to mainly finish at home alone after this week.
To create my design I found inspirations on old Indian fabrics, old Crewel embroideries I found on internet, specially in the Victoria and Albert Museum collection…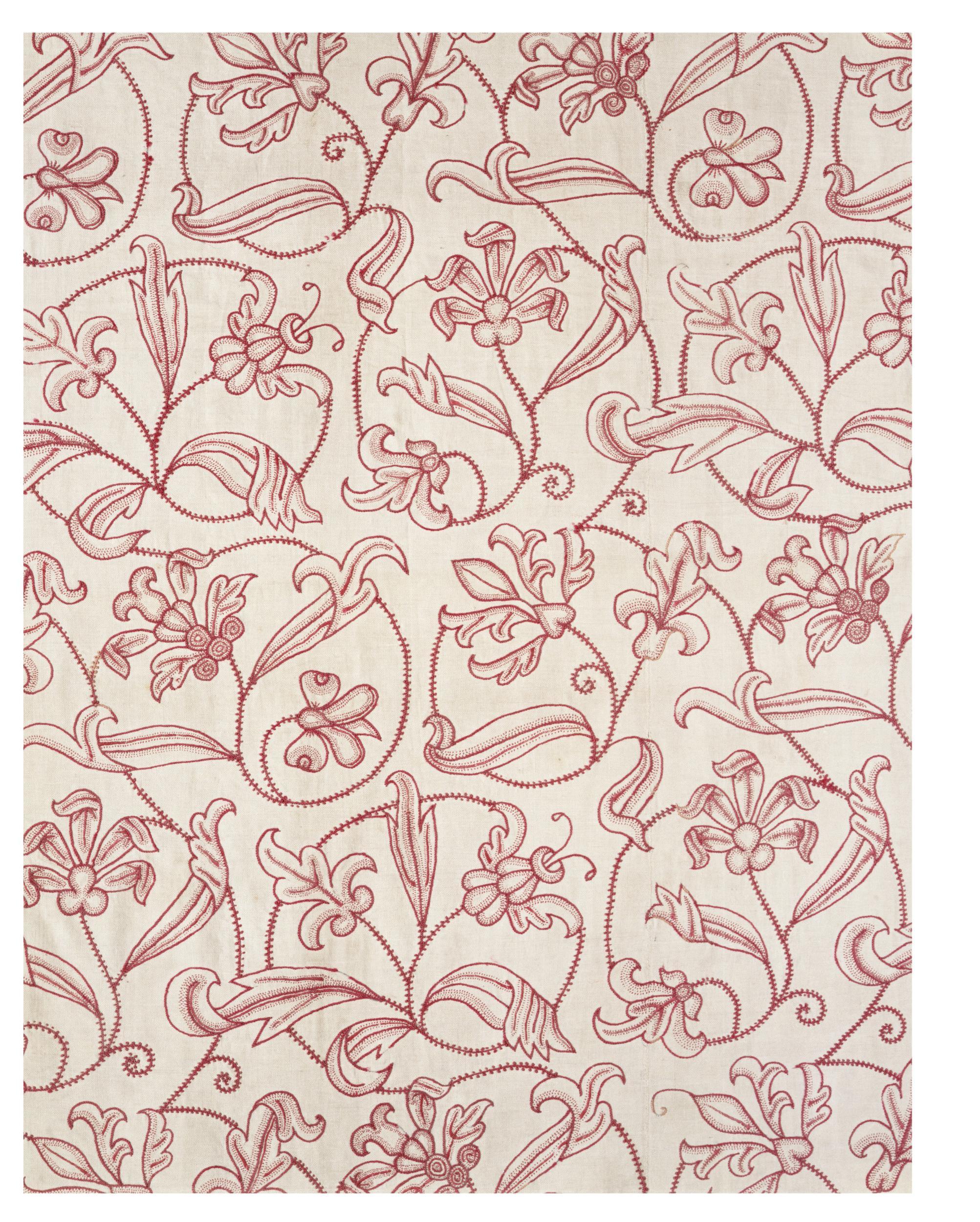 J'avais depuis le début une certaine idée de ce que je souhaitais : un arbre de vie, des collines et deux oiseaux. Ce que j'ai trouvé le plus difficile fut de penser en même temps aux motifs, aux couleurs et aux points de broderie qui doivent former à la fin un ensemble cohérent. Nous verrons bien au premier cours si cela convient.
My design evolved a little but I had an idea of the main elements I wanted since the beginning : a tree of life, hillocks and two birds.The most challenging part was to think about the design, the colours and the plan stitch at the same time, because at the end everything have to match nicely. I'm used to work on design and colours because I created a lot of quilt (patchwork) designs, but the stitch plan is a bit complicated. Now I have just wait for my first course to know if this design will be suitable for my Jacobean embroidery.